Barista Accessories
Barista-accessories such as tampers, tamper mats, knock boxes and milk jugs
 are essential for making great espresso drinks. A naked bottomless portafilter is a must for even extraction. An espresso leveler can smooth and compact the ground coffee in the portafilter, ensuring consistent extraction and richer flavor.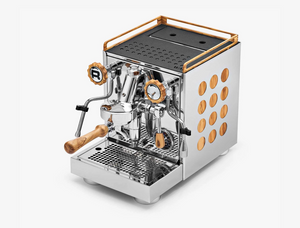 Novelty!
Now you have the opportunity to create your own unique espresso machine with handmade wooden details from Wiedemann Manufuktur!
Read more
barista-accessories
barista-accessories are essential items for any coffee enthusiast, and they come in all shapes and sizes. Whether you are a professional barista or an amateur home brewer, having the right tools can make a big difference when it comes to creating delicious espresso drinks. These little ones baristaaccessories to help you take your coffee game to the next level, from tampers and tamper mats to knock boxes and milk jugs.

Tampere is one of the most important pieces of equipment for making great espresso drinks. This tool is used to press freshly ground coffee into a portafilter basket before brewing. It's important to get a good quality tamper that fits well in your hand so you have complete control

A naked one bottomless portafilter offers several advantages. Firstly, it allows the coffee to be distributed evenly over the entire surface of the filter basket, ensuring a smoother extraction and improved taste. Also, because you can see right through the portafilter when you're brewing espresso, it helps baristas identify any channeling or other issues in their technique that could lead to an uneven extraction. Finally, since there is no beep on a bottomless portafilter for coffee to be collected before it is poured into cups, less waste is created when preparing espresso - which also makes it an environmentally friendly choice!

One espresso-equalizer is a tool that can be used to level and compress ground coffee in an espresso portafilter. This process helps ensure a consistent extraction of the coffee and can help produce a richer, more flavorful shot. It also eliminates air pockets between the roasts that can lead to over- or under-extraction of the espresso. The leveler's flat bottom ensures that all parts of the portafilter are evenly compressed for optimal results.